Fondation Sport-Études scholarships – Cégep à distance awards two scholarships and eight student-athletes win awards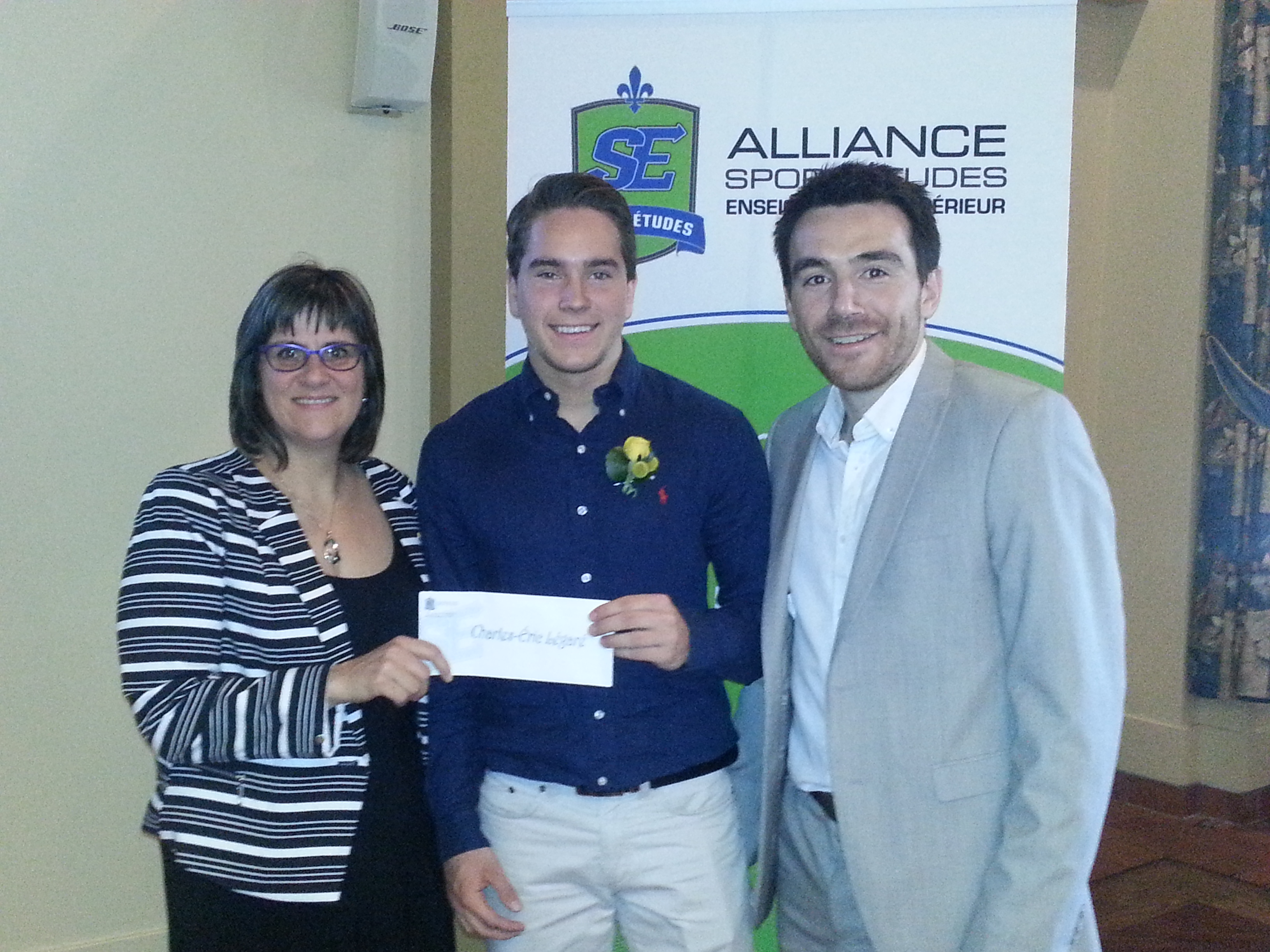 Charles-Éric Légaré receives a scholarship. He is surrounded by Sylvie Lavoie, agente spécialisée, programme de bourses Desjardins, and by Sébastien Fyfe, directeur général at Fondation Sport-Études.
Montréal, May 16, 2014 – Hockey player Charles-Éric Légaré and athlete Katherine Surin, both Cégep à distance students, each received $1000 scholarships from Cégep à distance on May 9. The scholarships are handed out each year through the Fondation Sport-Études program to two student-athletes who demonstrate academic commitment as they practise their high-level sport.
"Cégep à distance is always glad to reward student-athletes who persevere in their studies as their pursue their sports careers, despite complicated scheduling," declared Cégep à distance director Louis-René Dessureault. "Distance education demands a lot of discipline, and it is important for us to celebrate the remarkable accomplishments of our student-athletes."
Diver and Cégep à distance student François Imbeau-Dulac won a scholarship for the third year in a row. This year, he received a $2,500 scholarship from the QMJHL in recognition of his academic perseverance.
Five other student-athletes who are commandite students at Cégep à distance also received Fondation Sport-Études scholarships:
Jérémy Briand, triathlon (Collège Ahuntsic)
Maude Durand, aviron (Cégep Édouard-Montpetit)
Maxime Gravel, hockey (QMJHL) (Cégep de l'Abitibi-Témiscamingue)
Danny Bourgeois, snowboard (Cégep régional de Lanaudière à Terrebonne)
Myriam Leclerc, freestyle skiing (moguls) (Cégep André-Laurendeau)
Cégep à distance congratulations all the winning student-athletes and encourages them to continue to work toward their goals.
Cégep à distance is a proud affiliate member of the Alliance Sport-Études. The Alliance works with its member CEGEPs to offer academic oversight and organization to student-athletes. In partnership with Cégep à distance, it coordinates distance education needs and the recognition of acquired competencies in physical education.
Cégep à distance is an integral part of the Collège de Rosemont, offering programs in French that lead to a diploma of college studies (DEC, for its French acronym) or an attestation of college studies (AEC, for its French acronym). Some courses are also offered in English. Every year, some 18,000 people register for one or more of the 140 credit courses offered in French and English, for a total of 28,000 course registrations. All courses are offered in the continuous registration model.