LEED Silver Certification for the Collège de Rosemont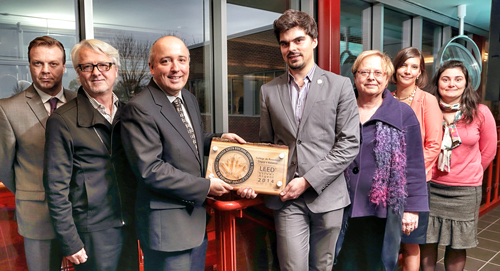 Montréal, November 5, 2014 – A major sustainable development step has just been taken by the Collège de Rosemont: the college's construction of a new building to house the Cégep à distance Directorate has led to LEED Silver certification by the Canada Green Building Council (CaGBC)!
"Since sustainable development figures prominently in the actions and concerns of the Collège de Rosemont, we welcome this certification with great pride! It is the outcome of a complex and rigorous process that required the commitment and mobilization of a great many employees, especially in the Material Resources department," explained Stéphane Godbout, executive director of the Collège de Rosemont.
LEED certification is a hallmark of excellence in sustainable development, recognized in over 132 countries. It attests that sustainability has been incorporated into every aspect of the construction, from design to operation. The standards upheld by the CaGBC have been adapted to Canada's climate, construction practices and regulations. CaGBC building evaluation covers six major categories: sustainable site development, water savings, energy efficiency, materials selection, indoor environmental quality, as well as innovation and design process.
Rosemont's strong points
The Collège de Rosemont did particularly well in the "Sustainable Site Development" category, partly due to the installation of roofs that help reduce heat islands. The creation of bicycle parking and changing rooms, the installation of charging terminals for hybrid vehicles and the proximity of public transit services also helped achieve a high score in this category.
In the "Indoor Environment Quality" category, the choice of low-emissions materials was recognized several times. Access to natural lighting in 75% of the spaces is another factor that was highlighted in the evaluation.
In terms of effective water management, Rosemont scored just one point below perfect, and in the "Innovation and Design Process" category, it earned 100%! Here, Rosemont distinguished itself with exemplary management of construction waste and the use of ecological electric systems.
About the Collège de Rosemont
The Collège de Rosemont is an institution of higher learning that welcomes over 3,400 students in every session. Its educational offer includes no fewer than 16 pre-university and technical programs, as well as the Tremplin DEC transitional education options. Its continuing education department offers over ten attestation of college studies (ACS/AEC) programs.
Cégep à distance is an integral part of the Collège de Rosemont, offering programs in French that lead to a diploma of college studies (DEC, for its French acronym) or an attestation of college studies (AEC, for its French acronym). Courses are also offered in English. Every year, some 18,000 people register for one or more of the 140 credit courses offered in French and English, for a total of 28,000 course registrations. All courses are offered in the continuous registration model.