Programs and courses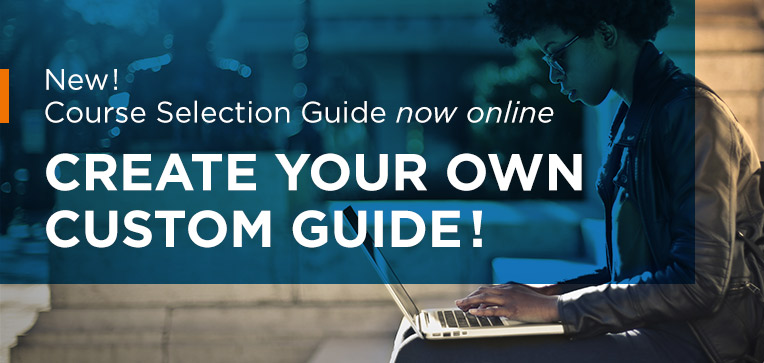 Course Selection Guide
Review our Course Selection Guide to discover the programs and courses offered by Cégep à distance. You can create your own custom guide and have it sent to you by e-mail.
Programs
Springboard to a DCS/DEC (081.06) is the only DCS/DEC offered in English at Cégep à distance. The aim of the Springboard to a DCS/DEC pathway is to provide students with training that enables them to enroll in or complete a program of study leading to a Diploma of College Studies (DCS/DEC).
Other DCS/DEC and ACS/AEC programs are offered in French only.
Courses
For more than 25 years now, Cégep à distance has produced distance education courses. We are currently expanding our course offerings in English and offer credited and non-credited college-level courses. The quality of our courses has garnered awards and these courses are recognized as equivalent to those offered in the college network in Quebec.
Register to finish your DSC/DEC, have access to a university program requiring pre-requisites, upgrade your skills or obtain a certificate in our short programs (available only in French for the moment).
Currently, most of the courses we offer are in the general education component, the complementary education component or in the Social Science program. Several are also university prerequisites.
When you register online, make sure you indicate which course option you want. Otherwise, you may end up with the French version of the course.
To complete a DCS/DEC
If you want to take a general education course to complete a DCS/DEC that is not offered at Cégep à distance, you have to register for the springboard to a DCS/DEC program (081.06).
Study in French
If the course you want to take is not available in English, it may be available in French. If you are comfortable in French, take a look at the courses we offer.
Learning French Online for Future Immigrants or Recently-established Residents
Learn more about the Francisation en ligne program offered by the Ministère de l'Immigration, de la Diversité et de l'Inclusion (MIDI) and about Cégep à distance's contribution to this program.
Understanding course and program descriptions
Visit the Understanding course and program descriptions page in order to learn more about the terms that are used in the program and course descriptions.
College-level program structure
Visit the College-level program structure page to learn more about the structure of college-level programs.
Professional development and non-credit courses
Our professional development courses are currently offered exclusively in French.
Learning materials available for purchase
Visit the Learning materials available for purchase page if you would like to purchase educational material without registering.